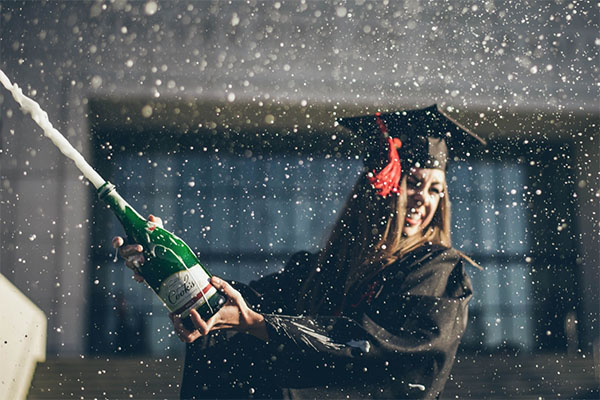 Prestigious scholarships and fellowships are not just for the Ivy-leaguers! There are so many opportunities out there for college students and recent graduates that it can be daunting figuring out which are actually worth applying for. That's why I've compiled a cheat sheet to highlight a few ones you don't want to miss out on knowing about!
Marshall Scholarship
Up to 40 young Americans are chosen each year to pursue graduate education in the United Kingdom ("young Americans" is defined as having attained a Bachelor's degree by the time the scholarship would be used). The awards are usable at any British university and cover two years of study in any field. The application requires four letters of recommendation, a GPA of at least 3.7, and must be endorsed by the President or Academic Dean of the applicant's undergraduate institution. Students are judged based on academic merit, leadership potential, and ambassadorial potential. Deadline: October
Rhodes Scholarship
The Rhodes Scholarship awards 32 recipients annually with two years of postgraduate study at the University of Oxford (with the possibility of renewal for a third year). It's open to those under 24 years old who will hold a Bachelor's degree by the time of application. Rhodes Scholars are chosen not only for their outstanding scholarly achievements, but for their character, commitment to others and to the common good, and for their potential for leadership in their prospective career.  Applications require five letters of recommendation, a 1000 word personal statement, interviews, and a list of activities. Deadline: October
Gates Cambridge Scholarship
The Gates Cambridge Scholarship was established by the Bill and Melinda Gates Foundation "to create a network of future leaders from around the world who will bring new vision and commitment to improving the life circumstances of citizens in their respective countries." The scholarship funds 1-4 years of graduate study at the University of Cambridge. It seeks intellectually outstanding postgraduate students with a capacity for leadership and a commitment to improving the lives of others. Students must apply both to the University of Cambridge and the scholarship. Deadline: October
Schwartzman Scholars Program
The Schwarzman Scholars program was designed to inspire the next generation of global leaders. Recipients will work towards a one-year Master's Degree at Schwarzman College at Tsinghua University in Beijing focusing on public policy, economics & business or international studies, in addition to an intense mentoring program. The program is open to anyone under age 29 holding at least a Bachelor's degree by the start of the program. 200 scholars are selected annually based on letters of recommendation, two essays (one on current affairs and one on leadership), a personal statement, and their resume and transcript. Deadline: September
Humanity in Action Fellowship
The Humanity in Action Fellowship brings together international groups of university students and recent graduates to explore national histories of discrimination and resistance, as well as examples of issues affecting different minority groups today. The program lasts around one month in the summer and takes place at several locations across the globe. Humanity in Action seeks candidates who are passionate about active and responsible citizenship, diversity and human rights. Official criteria include intellectual curiosity, entrepreneurial drive, open-mindedness, and collaborative spirit. Deadline: January
Fulbright Grants
The Fulbright Program, established in 1946 by U.S. Congress, was created to foster mutual understanding among nations through educational and cultural exchanges. It's designed to give a one-year opportunity to graduates and graduating students for personal and career development and international experience. The two types of traditional Fulbright Awards for the U.S. Student Program are English Teaching Assistantships (recipients provide assistance to local English teachers in host countries) and Study/Research Grants (applicants design their own programs which may include any combo of university coursework, independent research, and special projects in the creative or performing arts). Freshmen and sophomores, you should also check out the Fulbright Summer Institute! Deadline: October
Beinbeck Scholarship
The Beinbeck Scholarship is for college juniors who plan to enter a Master's or Doctoral program in the arts, humanities or social sciences. Priority is given to students who have received need-based financial aid and whom the scholarship would greatly increase chances of attending grad school. The total award is $34,000. Deadline: January
Rotary Foundation Scholarships
The Rotary Foundation invests in future leaders and philanthropists by funding scholarships for undergraduate and graduate study. For undergraduate scholarships, you need to check what your local Rotary club is offering. For graduates, there's the Rotary Peace Fellowship which is designed for professionals with work experience in international relations or peace and conflict prevention and resolution. For the Master's, at least three years of related full-time work or volunteer experience is required. The application also requires interviews and excellent leadership skills. Deadline: May
Charles B. Rangel International Affairs Fellowship
The Rangel Program is a partnership between Howard University and the U.S. Department of State that seeks to attract and prepare outstanding young people for careers as diplomats in the Foreign Service of the U.S. Department of State. The program accepts 30 graduate fellows as well as 15-20 undergraduate students who are invited to participate in the six-week Summer Enrichment Program. The application requires several letters of recommendation, over a 3.2 GPA, and a statement of interest identifying the background, experiences, and skills that you believe will make you successful in the program and a future career in international affairs. Deadline: February
The Critical Language Scholarship
As part of the National Security Language Initiative, the Department of State Critical Language Scholarships provides funding for U.S. citizen undergraduate, Master's and Ph.D. students to participate in summer language programs at American Councils for International Education and affiliated partners. Language options are Arabic, Azerbaijani, Bangla, Chinese, Hindi, Indonesian, Japanese, Korean, Persian, Punjabi, Russian, Swahili, Turkish, and Urdu (the Arabic, Chinese, Japanese, Persian, and Russian institutes have language prerequisites). The application is judged based on the student's academic rigor, commitment to language learning, the connection between the target language and their career/academic goals, their unique perspectives and contribution to the program, and ability to adapt to a challenging cultural environment. Deadline: November
James C. Gaither Junior Fellows Program
This program is for seniors and recent graduates who have a serious career interest in the area of international affairs, and who have significant coursework and research experience in the project areas listed on the Carnegie Bulletin for the fellowship year.  The prize is a year-long research assistantship at the Carnegie Endowment for International Peace in Washington, DC which has an annual starting salary of $39,500 and benefits. Deadline: November
Truman Scholarship
The Truman Scholarship seeks juniors with exceptional leadership potential who are committed to careers in government, the nonprofit or advocacy sectors, education, or elsewhere in public service. Scholars receive up to $30,000 for grad school and are required to work in public service for three of the seven years following completion of a Foundation-funded Graduate degree program. The GPA minimum is a 3.6. Deadline: October
For more information on overseas scholarships, Stanford has compiled a killer database. For general scholarships and fellowships, check out this list from Elizabethtown College. Good luck!