You know those once in a lifetime trips that are so wonderful your Instagram just can't do it justice? The weather's perfect, you happen to stumble upon the coolest streets and the most idyllic beaches and you swear the travel Gods are on your side? Those are the trips that sneak up on you, and no amount of planning can make happen.
Throughout my life, those trips have happened very rarely. But there is one little spot, that every time I visit, ends up being close to perfect: Martha's Vineyard, Massachusetts.
Growing up on Cape Cod, I have been to Martha's Vineyard a handful of times. When I was little we used to take my family boat over for the day, grab breakfast, ride our bikes to the beach, and tasted every ice cream stand on the island. As I got older, I was able to explore the Vineyard on my own- with newfound independence. Those last-minute Vineyard trips in my teens turned into some of my favorite summer memories.
And then, this past summer, I was invited to stay on the Vineyard and explore the island in an entirely different way – by spending the weekend in a beautiful hotel in the center of Edgartown Village.
The Kelley House, a historic inn built in 1742, breathed new life into my normal New England adventure. Who knew that sleeping in a completely remodeled, modern, and charming home, with a deck overlooking the harbor, would transform my taste so much.
Gone were the days of sleeping in the cabin of my boat, or crashing on a random friend of a friend's couch. The Kelley House gave me a taste of the Vineyard that was nothing short of magical– staying there was a true vacation.
From the moment I arrived off the ferry and arrived for my weekend stay, I knew this trip would be different. The brand new Mizzen Top Top Suite had sweeping views of Edgartown Harbor – with a giant porch, and big sun filled windows, I didn't want to leave my room. And that bed! The bed made me want to call it a night early and snuggle up.
But of course, I couldn't. I had Edgartown to explore. My first stop was the Kelley House Wave Bar – a poolside bar, open to the public, nestled on a sweet, quiet street right off the harbor, with shady trees and cozy outdoor furniture. Just like my bedroom, I think I could've stayed there all afternoon.
The thing with staying at an iconic inn like the Kelley House is that the staff knows what they're doing. They can direct you to the best restaurants, bars, beaches and shops – they know the ins and outs of what a few 20-something island hoppers would want to see. Coincidentally, one of the best restaurants on the island, loved by locals and tourists alike, is a part of the Kelley House. The Newes From America Pub has amazing food, in a beautiful historic atmosphere. The restaurant is a true nod to the colonial history of the Inn– and the island.
Edgartown is filled with beautiful shops and restaurants on every corner and the streets are lined with big, beautiful shingle-style, Greek revival homes— every inch of this town is a postcard. When you think of the Martha's Vineyard that your favorite movie and TV shows depict– this is the place they're talking about.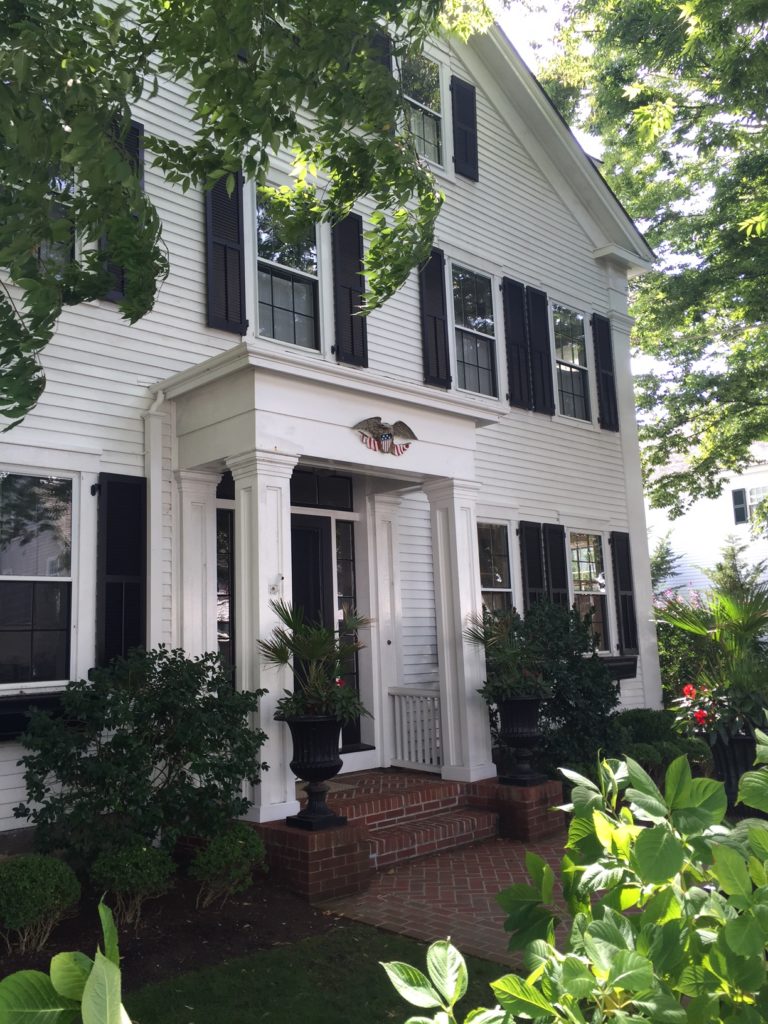 But in case you want to explore, other towns are just a bus ride away. The great thing about The Vineyard is that each town has its own story to tell. Oak Bluffs, home to the colorful victorian gingerbread houses (so cute!) and fun beach bars that even the Obamas have visited (Nancy's!), is a fun way to spend a summer afternoon. Vineyard Haven, a beautiful seaside village home to many year-round residents (and The Black Dog) is only a 20-minute drive away. Don't forget to visit the stunning cliffs of Aquinnah and jump across the Edgartown channel to Chappaquiddick.
Though it's a small island, Martha's Vineyard is bustling with tons to do, from beaches – to beautiful golf courses- to seaside restaurants and sail boat rentals, The Vineyard is filled with endless fun, for any type of vacation you might be interested in. But at the end of a long trip,- it's nice to have a cozy home away from home to go back to- all thanks to The Kelley House.
For more information on this beautiful inn check out their website here. Tip: for the budget traveler, rates in the fall and spring are cheap and the island is still buzzing just as it is mid-July.